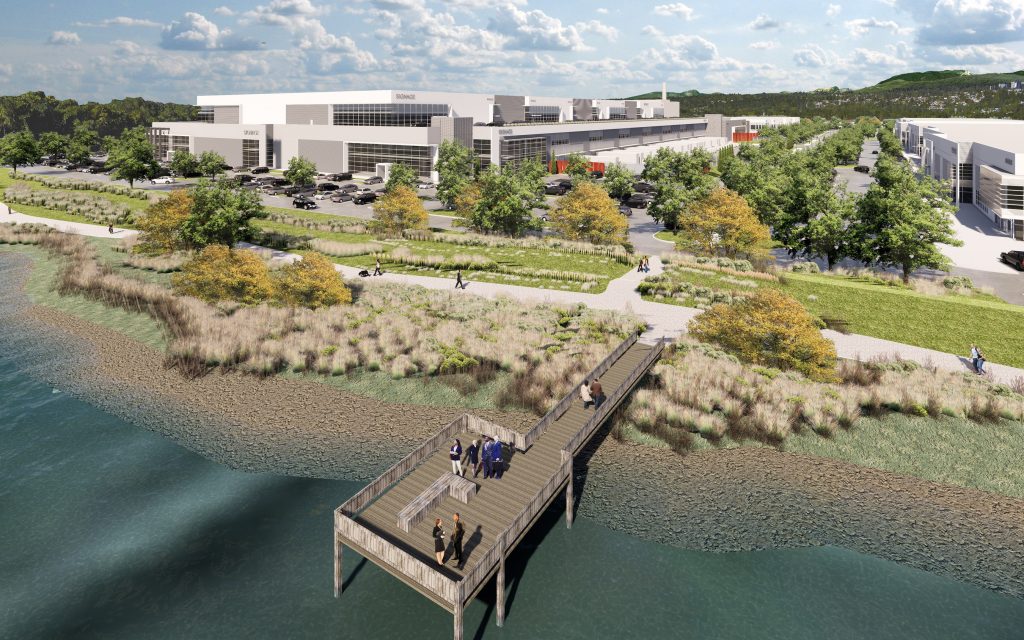 Design Inspiration of the NEW Industrial Park
Photo Caption: The new development at Riverbend Business Park will promote employee wellness via the construction of an amenity pier that stretches out into the Fraser River and walking trails that connect to the public trail system. (CNW Group/Oxford Properties Group Inc.)
The NEW Industrial Park Is More Than Just Industry
Gone are the days of just simple big-box buildings that historically anchor the landscape of the industrial park. Today's business parks are designed to inspire, invent, and create, featuring a variety of building types throughout the campus. Typically, a mixture of service amenity retail buildings is situated near the main entrance and is flanked by hotels, medical offices, ancillary office spaces, and sometimes even multifamily apartments. The warehouse structures are strategically placed throughout and today we have seen flex demand grow stronger and stronger ultimately acting as incubator space providing continued expansion. This design encourages businesses and its employees to utilize the full range of services being provided within the park and allows reinvestment back into the community through the service establishments.
The splashy retail and amenities, such as shopping, coffee shops, shared co-working space, hotels, meeting rooms, restaurants and more – offer both the company and its employees' park services. By providing these amenities, a reduction in overall traffic is achieved greatly reducing greenhouse gas.
Today's Parks Have Evolved From The Early Parks Of The 1950s
"Over time, increasing attention has been paid to covenants, codes, and restrictions designed to ensure compatible developments within the park," says Jack Fraker, senior director of Cushman & Wakefield in Dallas. Such documents, known as CCRs, are typical in master-planned communities and are enforceable by local park governance. CCRs address and regulate issues such as quality of construction, construction materials, uniform setbacks of buildings from streets, outdoor storage, degree of landscaping, signage and other design features. Today municipalities are much more sophisticated where zoning, conservation, and development commissions all support complex CCR's through its zoning and approval process. Infrastructure is being designed for the long term, traffic safety is being incorporated, public transportation and the use of bicycles are all being incorporated into the master design. Public and private utilities working together consisting of sewer, water, gas, electric, fiber communications are crucial and a standard requirement of every business today. Finally, the NEW industrial park is more of an economic development destination where businesses located within feed off each other.
Eco-Industrial Parks On The Rise
Eco-industrial parks (EIP) offer the advantages of traditional industrial parks while also using resources more efficiently, improving productivity, supporting the achievement of firms' social responsibility goals, and lowering exposure to climate change risks.
The EIP Framework Describes The Minimum Expectations For Eco-Industrial Centers Across Four Categories:
Park management performance
Here in the Northeast, we look for ways to reduce operating expenses to the various Tenants and occupants of the park. Shared driveways, common area maintenance through shared services increases purchasing power all in an effort to reduce overall costs. The utilization of a single snow removal or landscaping company greatly assists in the lowering of operating costs.
Environmental performance
Today, we are seeing features such as electric car charging stations, solar parking canopies and solar roof installations being provided all in an effort to offset utility costs and reduce emissions.
Electric car charging is becoming standard in building design and its only a matter of time before we see both electric and self-driving trucks service the businesses of the park.
Rainwater collection basins with storage cisterns are being utilized from the roof to provide irrigation where needed all in an effort to reduce water usage.
Drought resistant landscaping is being utilized.
Buildings are being designed with additional glass to provide natural daylight into the facility.
The requirement of LED lighting supported with motion sensors and timers is crucial to saving power.
Energy-efficient HVAC is being utilized throughout the facilities design supported with increased R-Value insulation parameters exceeding today's energy codes
Traffic reduction consisting of carpooling, ride-sharing, bicycle, and public transportation.
Social performance
Public access, walking trails, bike paths, and educational centers are all being incorporated in the master plan design
Most recently we see every community supporting an emphasis of bicycle commuting. To accommodate, striping, bike racks, signage are all being provided.
Economic performance
All of the above provide cost-saving measures in annual operating expenses to create a much more efficient workplace. While some items may cost more to install at the inception of the park design payback over time far exceeds the installation cost.
While efficiency and functionality are paramount to the planning and design of industrial parks and facilities, Condyne Capital Partners LLC goes beyond these essentials to create quality spaces where people can work efficiently and interact comfortably. Call today to learn more about our newly inspired industrial parks and see if we have the right space for you!