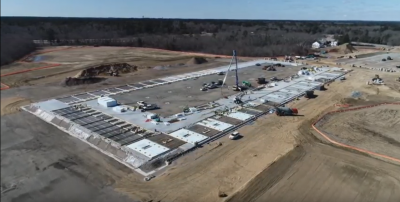 Phase I Construction of BlueStar Business Park Begins
Norton, MA  – Condyne Capital Partners' BlueStar Business Park in Norton, Massachusetts phase I construction is well underway. The 887,315 square-foot industrial park, spans across 190 acres and will be comprised of eleven (11) new high bay warehouse, fulfillment, flex industrial and manufacturing buildings, along with ancillary retail and business services space.
Bluestar will provide continued financial growth for Norton through real estate taxes, excise taxes, permit and connection fees for the town. New permanent and construction job growth will also result from the development.
"Bluestar business park was formally recreational and agricultural land that was rezoned by the residents of Norton to establish a new industrial park, after witnessing the strong success Condyne's Norton Commerce Center park has procured for the town in both job and tax growth," said Jeff O'Neill of Condyne Capital Partners LLC." Combined, after full buildout, the two parks will exceed 2 million square feet of commercial property."
The first phase of BlueStar Business Park will include three warehouse fulfillment buildings totaling 475,000 sq. ft. and three retail buildings totaling approximately 42,000 sq. ft., with the first building scheduled to deliver this coming August of 2020. The second phase includes five industrial buildings totaling 331,800 sq. ft. of space anticipated to commence in late 2021.
Amenities include a shuttle bus to Mansfield Commuter Rail Station, walking trails, Amazon drop boxes, electric car charging stations, outdoor grilling area with picnic tables, food trucks, ample parking, and trailer storage.
Condyne Capital Partners LLC is committed to sustainable practices and BlueStar Business Park will offer the most high-tech energy consumption mitigation strategies in the state of Massachusetts. These eco-conscious practices include lowering greenhouse gases, accommodation of electric cars at every building with free charging stations, and solar ready to reduce natural gas and electric energy consumption.
BlueStar Business Park is primely located, just 40 miles from Boston and 25 miles from Providence, Rhode Island, and is less than two minutes from Interstate 495. Wheaton College, Xfinity Center, Plainridge Park Casino and Ledgeview Way are all within a close proximity to the park.
With new leases already secured at BlueStar Business Park, the property currently offers both available retail and industrial space remaining.
To learn more about the BlueStar Business Park, please contact Thomas Nealon at 781-552-4204 or via email [email protected].