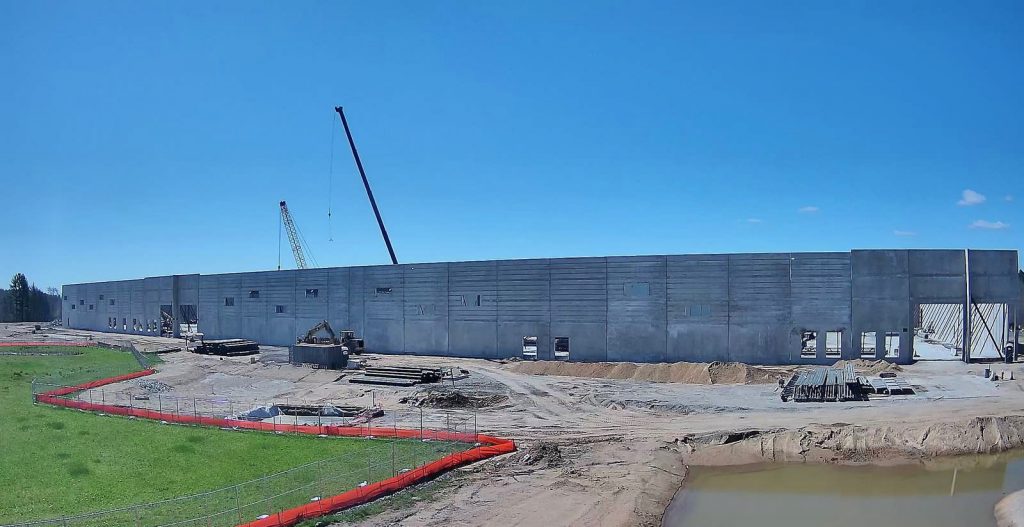 Turner Brothers Featured in Tilt Up Magazine for BlueStar Business Park
As Seen In Tilt Up Magazine
Bluestar Building Five is a warehouse distribution building located in the Houghton Industrial Park in Norton, Massachusetts.
The tilt-up insulated concrete walls and cast in place concrete foundation and slabs were performed by Turner Brothers LLC as part of the design build delivery system for Polar Design Build Inc. Constructed on an undeveloped site and set up for one to three tenants the 218,000 square foot single-story building is 40 feet tall with high bay storage utilizing the exterior load bearing tilt-up concrete walls as the main shear walls for lateral stability.
The interior is structural steel framing and exterior finishes consist of paint, aluminum curtainwalls and storefront windows. Cast in place concrete slabs are a dual layered Ductilcrete Heidebed method specifically designed for tilt-up construction. The two layers are placed separately with the bottom slab providing a surface for ongoing construction and the top slab placed after the walls have been installed, allowing for a superior slab finish and eliminating the need for repairs of the bottom slab.
The Thermomass insulation system for the tilt-up concrete wall panels was pre-fabricated to the exact dimensions of the panel to eliminate field cutting. The result is a faster more accurate installation assuring the insulation holes are spaced appropriate for the panels application.