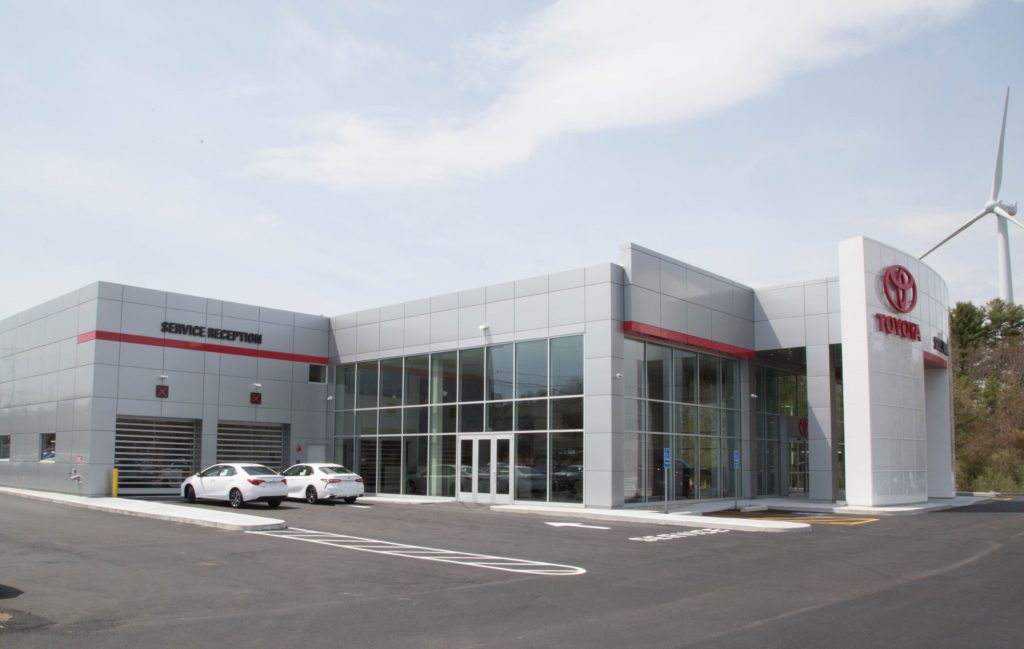 Polar Design Build Completes 40,000 S.F. Sullivan Toyota in Kingston, MA
Polar Design Build has finalized construction on a 40,000 square-foot (s.f.) automobile dealership for owner Sullivan Brothers in collaboration with owner's representative Richard Vazza in Kingston, Massachusetts. The modern architectural design was provided from architects The Curtis Architectural Group and is consistent with the brand's Design Intent Directive. The team included civil engineers McKenzie Engineering, structural engineers Flood Consulting, and MEP engineers CBC Engineering.
Sullivan Toyota is one of the highest volume car dealerships in New England. The dealership has over 75 associates who sell an average of 100 vehicles per week, and service an average of 250 vehicles per week. Sullivan Brothers have done business in the South Shore/Cape Cod region for three decades. The family owns and operates Sullivan Toyota, Sullivan Nissan, Sullivan Brothers Rental Car, and Sullivan Brothers Collision Center, all of which are located off Route 3 South.
Polar Design carried out construction in two phases. In Phase I, there were two buildings demolished on site. The construction team then carried out Geotech ground improvement and the installation of Geopiers before the foundation was poured. There was a subsurface infiltration system and large block retaining walls installed around the perimeter. The dealership was constructed with structural steel and insulated metal panels on the exterior and features two 42-foot monument signs featuring the Toyota emblem. In Phase II, the team created over 350 parking spaces and installed LED lights throughout the lot. The site's aesthetics were improved with beautiful landscape design and associated irrigation.
The 1st floor of the interior measures 34,000 s.f. and features an open showroom with space for 8 vehicles. There is a modern reception area, offices for retail sales, and a service office. The customer waiting lounge features a full Fieldstone fireplace that reaches from the 1st to 2nd floor as well as a café for convenience. There is a custom timeline feature on the wall of the customer waiting area that is a tribute to both the historic aspects of the Sullivan Brothers' business and the surrounding towns. The children's area also features a custom hand-painted mural. There is a spacious parts department as well as a service drop-off kiosk and reception. The service area boasts 28 service bays, 1 alignment bay, and 1 new state regulated inspection bay. There are designated areas for car details and new car deliveries. There are also men and women's locker rooms on the 1st floor. The 2nd floor measures 6,000 s.f. and features a full break room, administrative and management offices, and a conference room. The new dealership features modern furniture and décor as well as high-definition television monitors and security surveillance throughout.
Sullivan Toyota is located at 5 Cranberry Road off Exit 8 on Route 3 in Kingston, Massachusetts. It is a convenient location for car shoppers in the South Shore and Cape Cod regions.